Temporary Pool Fence Hire
Don't take any chances with you new or existing swimming pool. ReadyFence Adelaide has a unique temporary pool fence systems that will give you piece of mind and keep you on the right side of the law.
Pool fence must meet the regulations imposed by your local council and this applies equally to temporary pool fencing. Standard temporary fencing does not meet these regulations so it is important that you use the correct system.
We use a specially designed base for our temporary pool fencing which is less than 100mm thick so it complies with pool fencing regulations. It isconstructed of durable plastic that is very neat and strong. The panels are installed into these bases andthen the panels are bracketed together. The system is easy to move to allow access for contractors whilst the Pool is under construction and can be put back in place at the end of the day when they have finished.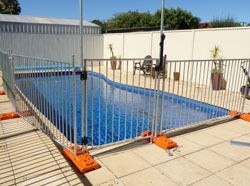 Temporary Pool Fencing can usually be installed for a minimal amount as the quantity and duration of hire tends to be short. Please contact us for a quote. We are confident you won't be put off by the price.
Next business day delivery is a guarantee ReadyFence Adelaide is proud of and weekend deliveries can be arranged upon request. All you need to do is contact us and we will solve the problem without any delay.
We will quickly and safely secure your pool fence keeping you loved ones safe and complying with all swimming pool regulations.